I'd like to say we rose with the dawn, but the truth is that only James did; and he went to the trouble to capture pictures of the town and St. Eligius church that were lost in yesterday's theft. I got ready for the day somewhat after he did. We broke fast at the hotel, and waited for the navette to take us to Charles de Gaulle airport. It felt like "No, No Navette", as three of the shuttles, all of them going to the wrong terminals, passed us by before one of the drivers took pity on us and transported us despite the fact that he would have to make a stop that was not on his route.
For the record: the French people I met, with the exception of the surly taxi driver of September 7, have been most warm, cordial, and kind. They showed me no reason to think of them as rude or snobby; from where I sit their reputation for nastiness to foreigners is undeserved.
We queued up with the other passengers, passports in hand, shuffled through immigration and customs, and finally boarded the plane that would take us to Chicago. I was wishing I were equipped with a parachute so I could deploy over Rensselaer county and skip the extra plane ride east.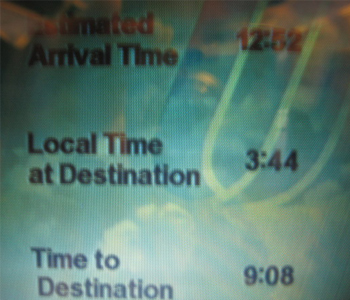 My plan to complete the web pages for this site while on the plane, both to pass the time and to get the task completed was derailed by the absence of the wherewithal with which to do it. I could take pictures of the news screen, though. This is one shot of about twenty. I'll spare you the others.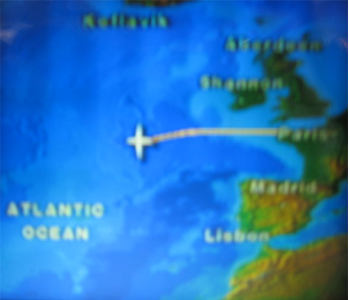 Epilogue
Since you are able to read this it's obvious that we got back home in one piece, safe and sound, if lacking some of the equipment with which we left. For those of you who were waiting with baited breath for reports fresh from the sites we visited, I offer my sincere and abject apologies for the delays, warranted and unwarranted, that caused them not to appear as I would have liked.
Once home, it took about three weeks to replace the laptop and reconstitute the information I lost, including one whole web site I had intended to completely overhaul. I had backed up a good deal of the data, but the work I had done while in Europe and in the days just prior to our departure is lost. I find the loss of sabbatical time and effort far more upsetting than the loss of the devices.
However, sending packages home was a good idea, as it seemed to make the good parts of the trip last longer. The last bundle arrived about a month after we got home. Some of the shopping we did will reappear during the holidays, and though I did thoroughly enjoy speaking French for a fortnight, it was swell to come home and hear American English.